Music: 2007: The Year in Review: Diving Off the Balcony
I paid attention in 2007, but not well enough. To be forthright, it is my opinion that it's pretty much impossible to
truly
pay attention to the contemporary music game. Things move
so
fast. If you got the indie rock thing dialed, then you miss whatever is going on in underground hip hop; if you got hip hop on lock, then you miss the noise/metal scene; if you got that thing covered, then you miss the decadent, gorgeously overwrought pop emanating from the pores of your radio's speakers; and if you skim all of those equally, well then you're staying completely on the surface, missing all that low-level goodness. And, to make this ridiculous, if you pay complete attention to contemporary music, you miss those great albums from yesteryear that are constantly bubbling up into the collective awareness. Consider that a caveat; what follows is my favorite of what I've heard and by no means definite. It'll change - certainly - by the end of next year.
Now, a few words on the subject at hand. 2007, especially following the very middling '06, has been a fantastic year for music. Not only has the stream of solid, competent, even excellent releases been steady, but there have also been a number - 5-8, by my count - of flat-out masterpieces, the kind of album that you speak about in hushed, reverent tones 10 years down the line. (This talk of the future is obviously speculative, but if I'm not listening to these albums 10 years from now, then I've either discovered some very excellent music indeed, or I've gone soft-headed. Consider this a time capsule.) Moreover, 2007 produced one song which I consider to be among the Top 10 ever created. Both a feat and coup in this modern climate. So, then: here, and with brief comments, are my favorite albums and songs (and other miscellany) of 2007.
Albums
25.
Dirty Acres
(CunninLynguists)
24.
Weighing Souls With Sand
(The Angelic Process)
23.
Curses
(Future of the Left)
22.
In Rainbows
(Radiohead)
21.
Death Is This Communion
(High on Fire)
20.
Kala
(M.I.A.)
19.
Beyond
(Dinosaur jr.)
18.
Phantom Limb
(Pig Destroyer)
17.
Eater of Birds
(Cobalt)
16.
Planet of Ice
(Minus the Bear)
15.
Bambi's Dilemma
(Melt-Banana)
14.
Liars
(Liars)
13.
Hissing Fauna, Are You the Destroyer?
(Of Montreal)
12.
Given to the Rising
(Neurosis)
11.
Boxer
(The National)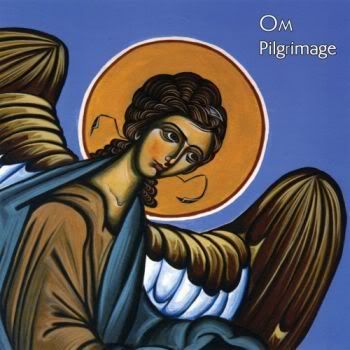 10.
Pilgrimage
(Om)
There's something to the name of this band. Their music - just, literally, drums and bass - is repetitive to the point of, surface-wise, boredom. But it never actually induces boredom. I won't claim it induces a bodhisattvaic trance-like state, either - that'd be silly - but it is (spoiler: critical buzz word ahead) kinda meditative. Probably the ultimate stoner metal record, but don't hold that against it. This is what it means to lock into a groove and ride it 'til the runout.
09.
You Follow Me
(Nina Nastasia & Jim White)
Stunning production care of Steve Albini: the way White's A-G percussion meanderings dance with Nina's voice and guitar is simply perfect. What should be a straightforward record - just drums, vox, and guitar - is actually a slippery little thing. Both players dance around "typical" melodies and rhythms, skewing and splaying them across the surface; when it locks, when you are given that taste of perfect pop, it's that much sweeter.
08.
Mirrored
(Battles)
Potentially the year's best record, if only I understood it better. Music from twenty years in the future, maybe. Boredoms and Kraftwerk filtered through Ornette Coleman, but with more guitars.
07.
Ga Ga Ga Ga Ga
(Spoon)
Probably the most consistent band ever. Britt Daniel is
always
the coolest guy in the room.
06.
Untrue
(Burial)
The aural echo of a dejected night's walk through a piss-drizzle of rain.
05.
Ire Works
(Dillinger Escape Plan)
Track three is titled "Black Bubblegum," and that's really the perfect figure for this album. DES don't so much drop their math-metal tendencies as they integrate Timberlake (!) styled croonings into parts of them. No joke. The result works surprisingly well, with the ultimate apotheosis being the Faith No More acolyte, "Milk Lizard." Its fence-sitting will ultimately insure that very few people actually like this album, but for those with an ear for both Pig Destroyer and Rihanna, this is about as close as one can get to a blissful marriage.
04.
Strawberry Jam
(Animal Collective)
The Animal Collective comes through with its most immediate and approachable album to date. I don't know yet whether it's my favorite - the last three have all been overwhelmingly good - but it sure is a stunner. "Peacebone" is essentially a summation of the Collective's career arc, arhythmic noise finds a beat, then a semblance of melody, then a hook, and finally a non-sensical, but catchy, refrain. Yeah, they've waxed pop, but that's certainly not a bad thing - when they meld their avant-meandering to a good hook, the results equal something approaching genius.
03.
Person Pitch
(Panda Bear)
Forget comparisons to Brian Wilson, talk of the samples, questions of authorship - the real deal with Person Pitch is those gorgeous, hummable melodies; the real deal is those washes of sound that layer up like a great dub record. I simply don't understand those that accuse this record of being inaccessible or odd - it's perfect pop. The various samples and percussions flowing with, bouncing off, or grinding up against each other; the sheets of melody and harmony that - even divorced from anything resembling sense - emote all over the fucking place; the swelling transitions, like that tiny bit of darkness that creeps into the end of "Comfy in Nautica" - this is the excellence of Person Pitch. Even in a year of several great and distinguished albums, Person Pitch stands apart.
I won't try to ascribe some deep, philosophical meaning to PP. I've read the lyrics (cause I certainly didn't understand 'em while listening), and they're definitely good, but this isn't a Leonard Cohen album. Neither will I try to ascribe some deeply personal meaning to Person Pitch - listening to it really loud while lying on my bed, drunk on Lancers, doesn't make me cry or ponder my being. All I'll say is this: Person Pitch is really great, really pure music, music whose surface is constantly in flux and always in the process of washing over and redefining itself. That's pretty much everything I want in music.
02.
Colors
(Between the Buried and Me)
This is the one that, while I was walking to my school's career center trying to figure out what do with my life (answer, btw: pizza boy), made me fall in love with metal. Not for everyone, obvs., but this album really is excellent music. There's the requisite speed-riffage, natch, but there's also the steady hand of an editor present. BtBaM temper their insatiable appetite for the riff with these perfect, and often beautiful, interpolations - e.g. the refrain in "Sun of Nothing," the breakdown in "Ants of the Sky," and the entirety of "White Walls."
01.
Sound of Silver
(LCD Soundsystem)
The way it's sequenced - the faux club-romp of "Get Innocuous" and "North American Scum" bleeding into the meditations on, respectively, loss and aging in "Someone Great" and "All My Friends" that finally coalesce into something resembling, simultaneously, elegy for past and affirmation of present in "Sound of Silver" and "New York I Love You, but You're Bringing Me Down" - is pretty much peerless, as albums go, in the last five years. It's the one-two punch of "Someone Great" and "All My Friends," however, that puts
Sound of Silver
over the top. James Murphy proffers one of the great opening lines
ever
in "All My Friends," "That's how it starts," invoking both an entire lost past and a sort of unavoidable, yet somehow mysterious, future. It's my favorite trope: finding the epic in the banal, with the result being that each subverts the other, leading to this weird space of simply, well,
being
. The result is an affirmation, with a great deal of trepidation, of being where you are, of
this
moment, right
now
Singles
I don't really know singles too well, but here 'tis anyway.
10. "The Underdog" (Spoon)
09. "Peacebone" (Animal Collective)
08. "No Pussy Blues" (Grinderman)
07. "Bros" (Panda Bear)
06. "Fireworks" (Animal Collective)
05. "Umbrella" (Rihanna)
04. "Paper Planes" (M.I.A.)
03. "Year of the Pig" (Fucked Up)
02. "Titus Andronicus" (Titus Andronicus)
01. "All My Friends" (LCD Soundsystem)
n.b. the b-side to Bonnie 'Prince' Billy's "Lay & Love," - "Señor" - is really deserving of that #2 spot, but - for some weird reason - I've deemed it ineligible. Nonetheless, do give it a spin.
edit:
I meant to add this on first publish. Nobody will read it now, but that's ok. Just to show how transitory these things are, here's last year's list - as made last year - contra the same list from this year's vantage point:
2006
1. The Drift (Scott Walker)
2. Orphans (Tom Waits)
3. Drum's Not Dead (Liars)
4. If You Come to Greet Me (Laura Gibson)
5. Sam's Town (The Killers)
6. Return to Cookie Mountain (TV on the Radio)
7. Fishscale (Ghostface Killah)
8. Sensuous (Cornelius)
9. Harmony in Ultraviolet (Tim Hecker)
10. 45:33 (LCD Soundsystem)
11. Hell Hath No Fury (Clipse)
12. The Body the Blood the Machine (The Thermals)
13. Citrus (Asobi Seksu)
14. Roots & Crowns (Califone)
15. Boys and Girls in America (The Hold Steady)
16. Lupe Fiasco's Food & Liquor (Lupe Fiasco)
17. Destroyer's Rubies (Destroyer)
18. Night Ripper (Girl Talk)
19. Carnavas (Silversun Pickups)
20. Taiga (OOIOO)
2006 via 2007
1. The Drift (Scott Walker)
2. Dead Mountain Mouth (Genghis Tron)
3. Drum's Not Dead (Liars)
4. Brother, Sister (mewithoutYou)
5. Blood Visions (Jay Reatard)
6. Orphans (Tom Waits)
7. Blood Mountain (Mastodon)
8. Hell Hath No Fury (Clipse)
9. Diadem of 12 Stars (Wolves in the Throne Room)
10. Boys and Girls in America (The Hold Steady)
11. Return to Cookie Mountain (TV On the Radio)
12. Fishscale (Ghostface Killah)
13. Sensuous (Cornelius)
14. Harmony in Ultraviolet (Tim Hecker)
15. 45:33 (LCD Soundsystem)
16. The Body the Blood the Machine (The Thermals)
17. Futuresex/Lovesounds (Justin Timberlake)
18. If You Come to Greet Me (Laura Gibson)
19. Sam's Town (The Killers)
20. King (T.I.)
Crazy, right?